The first survivor was pulled out and 74 people
were
still missing on Wednesday at the site where a giant flow of mud and construction waste engulfed buildings in Shenzhen, Guangdong province, on Sunday.
At about 6:38 am Wednesday, Tian Zemin, the male survivor, 19, was pulled from debris, about 67 hours after the landslide. He is from southwest China's Chongqing municipality, according to Xinhua News Agency.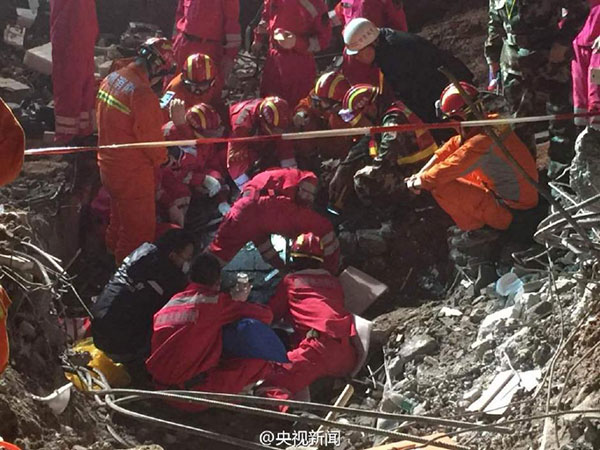 Tian, who was in a small office when the landslide hit, was transported to a local hospital at about 6:50 am and is in stable condition now.
At 3:40 am, Tian and another person were spotted by rescue workers and they needed emergency treatment, Shenzhen Jing News cited sources from rescue headquarters as saying. Medics rushed to the site and carried out treatment there. At 4:24 am, two ambulances arrived at the scene.
However, the other person showed no vital signs of life while Tian remained conscious, according to CCTV News.
Xinhua News Agency reported that rescuers managed to get in touch with Tian at around 4:00 am. Wu Wenwei, a fireman, told Xinhua that they talked with the man and put a helmet on his head. Medics has provided him with oxygen and venous transfusion. Tian said there are probably more survivors trapped.
The deputy general manager, surnamed Yu, of the company which manages the mud and construction waste that caused the landslide has been taken under police custody, Beijing Times reported.
The list of the 76 missing-50 males and 26 females was released on Tuesday. The number was revised downward from 85 on Monday after several people believed to be missing were contacted.
Liu Qingsheng, deputy mayor of Shenzhen, said at a news conference on Tuesday that the government and police examined household and apartment rental registrations as well as registrations of workers at factory buildings in the area to help determine who was missing.
A rescue team located parts of buildings beneath the mud on Tuesday morning at four of the six dig sites by using optical radar, geological radar and other technological measures, the news conference was told.
More than 4,000 rescue workers arrived at the industrial zone with 331 pieces of engineering equipment, 190 excavators and 76 dump trucks.
In addition, public organizations, the Red Cross Society of China and NGOs joined the rescue and assistance work at the landslide site.
Housing at a local innovation center was offered as shelter for those who escaped from or were evacuated after the disaster as well as for relatives of missing workers.
"I learned about the accident from the news on Sunday evening and decided to help them as much as I could," said Niu Lianjie, chairman of the innovation center, the rooms of which now provide shelter to 283 people.
The center's partners and social NGOs provided donations. "We received about 70,000 yuan in capital donations, food, clothes and daily necessities. Restaurants nearby also brought us food for free," Niu said.
He added that the capital donations had been sent to the Red Cross Society of China, which has donated 500 packages of necessities to residents at the innovation center's temporary shelter.
However, the people sheltered there still urgently need to get their ID cards andc ash, Niu said, adding that "there are also children here who need their books for school".
He estimated that the facility will provide emergency shelter for as long as one month, but he said he did not know where the people staying there will go after that.
Li Hongxia from the Dengzhou chamber of commerce in Shenzhen said that so far, three families from Dengzhou, a small city in Henan province, have reported missing relatives, with one family unable to contact five members.
A hotline set up by the chamber has received dozens of calls regarding missing people. The chamber promised to provide dormitory facilities and help displaced workers find jobs in Shenzhen or in Dengzhou.
According to the list of the missing, 22 are from Henan. Also among the missing are workers from Guizhou, Hunan, Sichuan and Guangdong provinces, the Guangxi Zhuang autonomous region and Chongqing.
KuangChi Science Ltd, a Shenzhen-based high-tech company, also participated in the rescue effort with high-resolution earth observation equipment, which can find survivors by detecting heat sources.