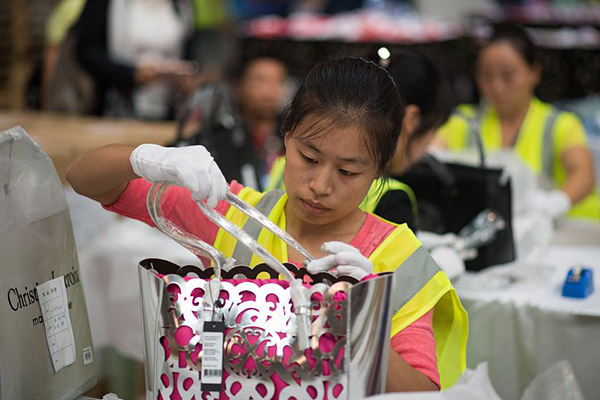 Workers repacking good at a warehouse of Geodis a logistic supplier in the China (Shanghai) Pilot Free Trade zone. [Photo/VCG]
Government lifts restrictions on range of business in nation's 11 pilot free trade zones
More sectors are now open for foreign investment in China's 11 pilot free trade zones, ranging from helicopter manufacturing to financial services, the Ministry of Commerce announced on Thursday.
China has pledged to offer more market space to foreign companies to carry out manufacturing, transportation, information, mining, scientific research and culture-related business in these zones.
Sun Jiwen, the ministry's spokesman, said all activities conducted by foreign firms in businesses not on the negative list only need to be filed at the relevant commerce bureau, rather than being reviewed by government branches.
The central government removed the restriction that Chinese partners must hold stakes when foreign businesses set up companies to manufacture helicopters over three metric tons in its FTZs, and that urban rail vehicle production business must be conducted under the format of joint ventures.
In addition, they are entitled to establish companies with individual ownership.
Eager to restore the country's earning ability, the State Council, or China's cabinet, on June 16 issued the 2017 negative list for its FTZs, which removes 27 items which were in the 2015 edition, leaving 95 areas off-limits to foreign investors after four sets of modification since 2013.
The country had 190 entries on its negative list when the first FTZ-the Shanghai Pilot FTZ-was launched in September 2013.
"The change will allow foreign investors access to the same regulation rules for new investment as domestic firms, as long as the business is not on the negative list," said Sun.
The 2017 negative list has further clarified the requirements of investors' background, earning ability and stock proportion for foreign companies to participate in China's banking and insurance industries to raise transparency and competitiveness in China's FTZs.
Since China launched its first pilot FTZ in Shanghai in 2013, another 10 provinces and municipalities have been included in the second and third batches of new FTZs in 2015 and earlier this year.
Expert said the revision can be viewed as a significant move by China to open its economy in a global environment of rising protectionism.
"The country is moving fast to lower thresholds for foreign investors. More industries have been accessible to foreign investment in the country's FTZs, while laws were amended last year to simplify the approval procedures for foreign companies," said Wei Jianguo, vice-chairman of the Beijing-based China Center for International Economic Exchanges.