China's ambassador to the United Kingdom, Liu Xiaoming, appeared on BBC radio on Friday to answer questions about the changes seen in Hong Kong since the 1997 handover and how successful the "One Country, Two Systems" policy has been.
Interviewer John Humphrys, a journalist well known for his tough approach, was criticized by many Chinese web users over the interview, with one describing him on WeChat as "not having an ounce of professionalism."
On Weibo, one commenter asked why the UK cares so much about democracy in Hong Kong while it refused to grant universal suffrage during the "endless colonial era."
Others jokingly raised the prospect of Scottish independence, after recent calls for another referendum were refused by the UK government.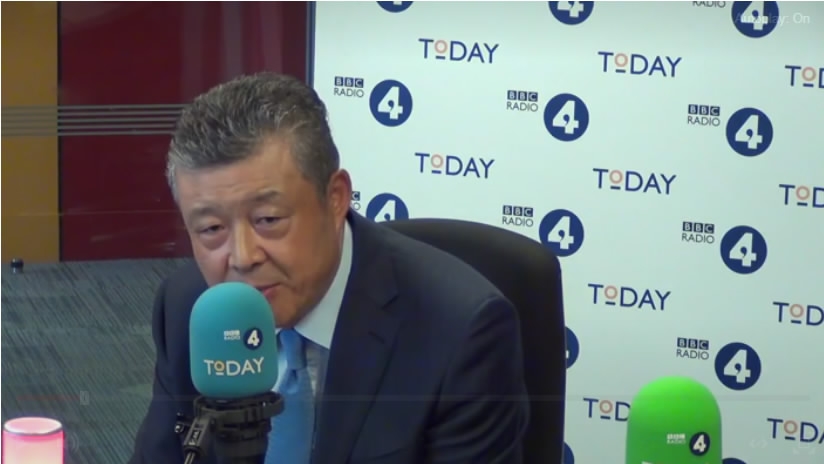 Chinese Ambassador to Britain Liu Xiaoming interviewed on the BBC. /Screen shot from BBC program: Chinese Ambassador defends democracy in Hong Kong.
With the BBC accused of hypocrisy and double standards over the way it has reported on Hong Kong, other international media have also paid close attention to the 20th anniversary of Hong Kong's return to China.
Below are some of the key points made by Liu during his interview, along with corresponding comments from global media.
1) Liu Xiaoming on… Delivering "One Country, Two Systems"
"As a matter of fact, the central government delivered everything it promised, that is 'One Country, Two Systems'." I think that basically Hong Kong will maintain its social, economic system, way of life, rule of law. And I think Hong Kong now is a much better place compared with 20 years ago."
The Economist's view:
"'Two systems' has worked better than many expected. Hong Kong remains distinct. It is the most prosperous part of China and also the most free. China has largely kept out of Hong Kong's affairs while at the same time benefiting from its dynamic capitalism. Hong Kongers have far more democratic rights than other Chinese citizens. Its courts are still respected internationally, its media are lively and political protest is tolerated in ways unthinkable on the mainland."
2) Liu Xiaoming on… Hong Kong's economic development
"In the past twenty years, we've seen Hong Kong maintain prosperity, stability, the GDP doubled, foreign reserves tripled. Hong Kong now still remains a global center of finance, trade and shipping. Its people's life expectancy increased tremendously, way ahead of many developed countries."
The Straits Times' view:
"Businessmen and entrepreneurs have benefited from economic growth during the last two decades. They largely support the establishment and the central government. On the other hand, the working-class people, who encounter problems such as rising costs of living and inadequate affordable housing, have become agitated"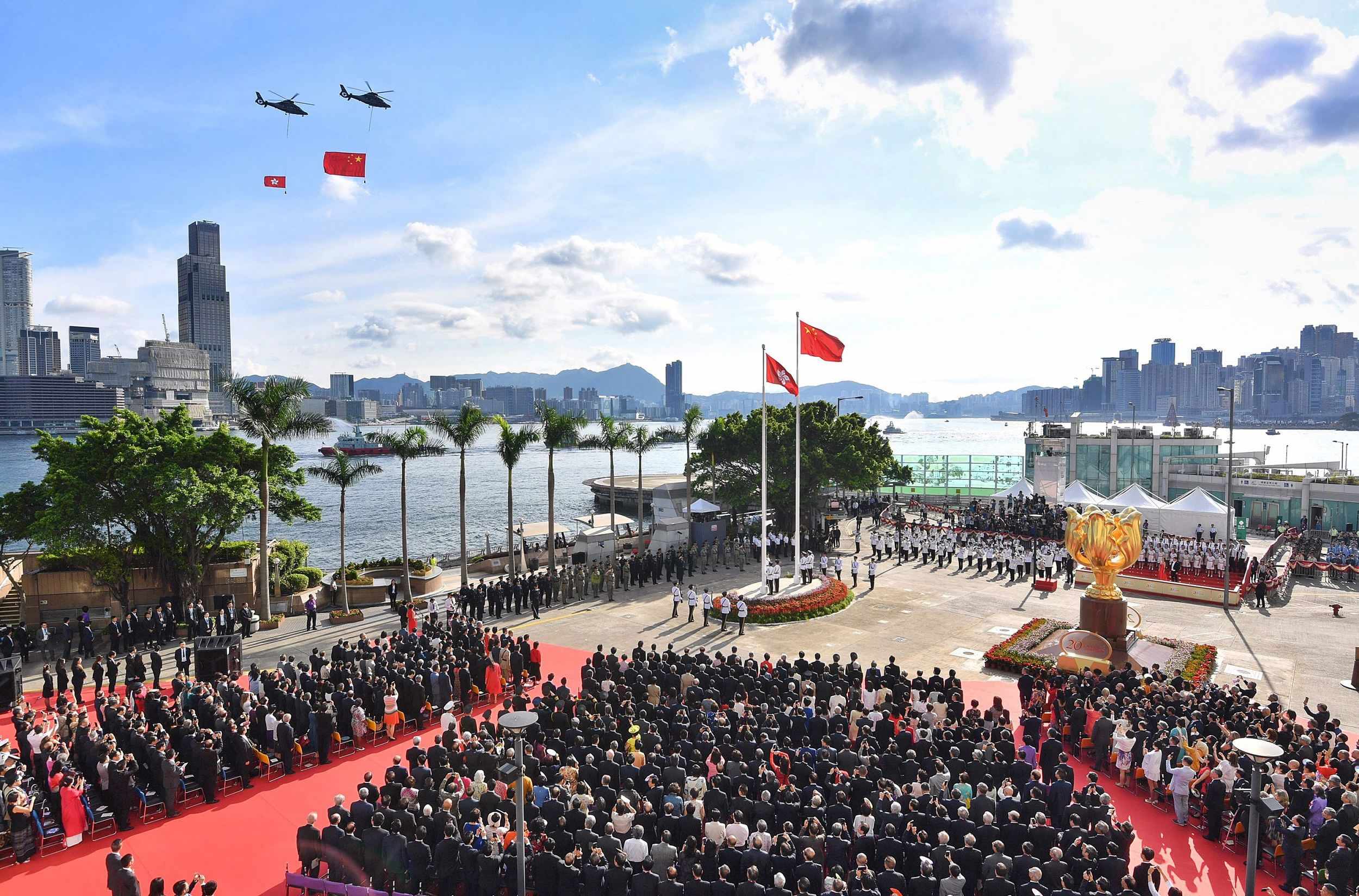 A flag-raising ceremony at Golden Bauhinia Square in Hong Kong to mark the 20th anniversary of the establishment of the Hong Kong Special Administrative Region (HKSAR). /CFP Photo‍
3) Liu Xiaoming on… Democratic governance compared to 20 years ago
"20 years ago, did you have elections in Hong Kong? Who elected the governor of Hong Kong? And in the past 20 years, there were five elections in Hong Kong…. I would say the chief executive is elected according to the Basic Law, according to the election law in Hong Kong. You have to achieve this through incremental, gradual and step by step. As we say: Rome was not built overnight."
Al Jazeera's view:
"They [Hong Kong people] can make full use of the limited representation they have, the relative press freedom that still exists and the independent courts to defend what they have, and work towards gaining more. They will also have to weigh up the relative merits of standing their ground… against a more pragmatic approach that seeks gradual progress within existing limitations."
4) Liu Xiaoming on… Freedom in Hong Kong
"Also I would say when you look at a society whether it is free or not free, you should have a big picture. You can not only focus on some discontented people, focus on the complaints of the people."
Legislative Council member Regina Ip writing in the New York Times:
"Hong Kong has, in fact, become more democratic in the 20 years since the end of British rule. More members of the Legislative Council are freely elected. The legislature has become more autonomous and assertive compared with its forebear in the colonial era. It has investigated the executive branch for breaches of the law, making it a powerful check on executive power."
Hong Kong Chief Executive-elect Carrie Lam waves as she arrives for a flag raising ceremony on the 20th anniversary of the city's handover from British to Chinese rule, in Hong Kong, China July 1, 2017. /CFP Photo
5) Liu Xiaoming on… Hong Kong being part of China, not part of the UK
"When you say 'One Country, Two Systems', I think a lot of people forget there is a one framework, Hong Kong is part of China, not part of UK."
Lawmaker Holden Chow in The Guardian:
"The majority of Hong Kong people have never supported the notorious idea of Hong Kong independence. Hong Kong is part of China and we are Chinese: this is a fact and never in dispute."
As one of the world's leading financial centers and a multicultural city home to people from all over the world, it is inevitable that international journalists will continue to follow events in Hong Kong closely.
For historical reasons, the UK and its media will always be particularly interested in Hong Kong and its people. However, as Ambassador Liu made clear, Hong Kong is no longer part of the UK.
President Xi Jinping said during a ceremony on Saturday, "China has been striving to build a prosperous mainland under the socialist system and a prosperous Hong Kong under the capitalist system at the same time," reflecting China's commitment to the "One Country, Two Systems" policy.