We are delighted to announce another set of outstanding A-Level results for students at the London Academy of Excellence Tottenham (LAET) - the Club-sponsored Sixth Form college based on the Tottenham Hotspur Stadium campus.
An incredible 47% of grades were either A* or A with 75% A*- B. once again, nearly three quarters of students have won places at Russell Group universities, compared to 1% of Tottenham school leavers the year before LAET opened.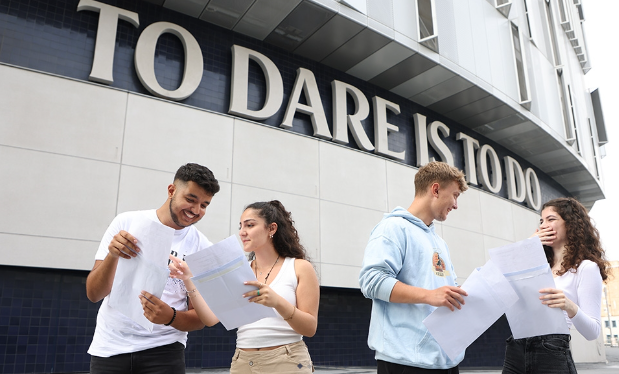 Examples include Samirah Bangura, who achieved A*A*A* and will be the first in her family to go to university when she studies Law at the University of Warwick.
Rachael Oloyede-Oyeyemi, who achieved A*A*A and will be studying English Literature at Cambridge University, said: "I'm so proud. The school cultivated my love for English. They really show you how much you can achieve if you genuinely put your mind to it."
Fellow Tottenham student Giovanni Rose is weighing up an offer to study Mathematics at King's College London alongside apprenticeship opportunities, having achieved A*AB. Giovanni was named the Foyle Young Poet of the Year last November, beating over 6,000 young writers across the country for his poem Welcome to Tottenham.
At least 10 students have won places at the Universities of Oxford or Cambridge, with others electing to take the apprenticeship route - Ruben Blanco-Agpur achieved A*AA and will be starting an apprenticeship with JP Morgan in September.
Jan Balon, Headteacher, said: "I am thrilled by the achievements of this cohort. They have dealt with such adversity but fought through to huge success. In a society which often stigmatizes young people, particularly from areas such as Tottenham, it is humbling to have the opportunity to work with these students on a daily basis."
Donna-Maria Cullen, Executive Director, Tottenham Hotspur, said: "A huge congratulations to all the students and staff at LAET on yet another excellent set of A-Level results. We are immensely proud of you all. It was always our intention when we built the stadium to play a wider role in the community and these students are evidence of the burgeoning talent that exists within the area of Tottenham and deserves to be supported. It is our firm belief that education and employment create the opportunities that fundamentally change someone's life. We look forward to seeing students progress on their journeys towards a career - whether that's through a University degree or apprenticeship - and fly the flag for the area of Tottenham ."
Adam Pettitt, Head of Highgate School, the principal education sponsor, said: "It is a source of real pride for Highgate School to work in partnership with our amazing sibling school and we congratulate all the young people who have achieved such brilliant results to realise theirs and their families' ambitions. Tottenham's students deserve nothing less than the very best educational opportunities; seeing them make the very best of these and take up top university places and apprenticeships is an inspiration. Well done LAET!"
The London Academy of Excellence Tottenham is a state-funded Sixth Form, sponsored by the Club and Highgate School - the principal academic sponsors who, together with support from other leading independent schools, deliver expert teaching.
It prioritises local students most likely to benefit from an academically-rigorous curriculum and those from disadvantaged socio-economic backgrounds, giving Tottenham's brightest students the best possible chance of accessing top universities.
This is in the context of the school being situated within one of the 2% most deprived wards in the country, with 63% of its student body coming from the lowest two social groups - being described as living in 'struggling estates' or 'difficult circumstances' - using the ACORN tool for socio-economic analysis.
LAET was named the Sunday Times Sixth Form College of the Year, 2020 by Parent Power, The Sunday Times School Guide and achieved an 'Outstanding' Ofsted rating across all areas in 2021.